Save the Date!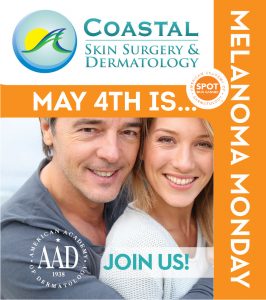 The month of May is recognized by the American Academy of Dermatology as Skin Cancer Awareness Month! Join Coastal Skin Surgery & Dermatology for the 9th Annual Melanoma Monday Event hosted at all 4 locations along the Emerald Coast! FREE Skin Checks will be offered by board-certified dermatologists and physician assistants from 1-4pm on Monday, May 4, 2020.
Here are a few reasons why you should practice Skin Cancer Awareness:
Statistics show that 1 in 5 Americans will develop skin cancer in their lifetime.
Skin cancer is the most common form of cancer in the United States and if caught in the early stages, relatively easy to treat.
Approximately 9,500 people in the U.S. are diagnosed with skin cancer daily.
In an attempt to increase Skin Cancer Awareness in our communities – Coastal Skin Surgery & Dermatology along with the American Academy of Dermatology recognize the 1st Monday in May as Melanoma Monday!
A world without skin cancer is an achievable goal and the American Academy of Dermatology is committed to reducing the incidence of and mortality from skin cancer. Public education is the key. By educating the public about how to reduce their risk of skin cancer and how to spot skin cancer, we can help change behaviors and ultimately save lives. – AAD
Daily sunscreen application is recommended as well as sun safe gear like a wide-brimmed hat, sunglasses, and clothing that contains UV ray protection.
Discuss why sun protection and skin cancer prevention is important with your whole family and start great habits now! Schedule an annual skin check with your preferred board certified dermatologist and make skin cancer awareness part of your daily routine 12 months out of the year! Call Coastal Skin Surgery & Dermatology to schedule your skin check at (850) 654-3376 or make an appointment online!