GSRTM – Getting Skin Ready

Cleanse
The first step in Dr. Obagi's GSRTM System: a cleanser to remove surface debris.

Scrub
The second step in Dr. Obagi's GSRTM System: a scrub to help remove dead skin cells.

Oil Control & Tone
The third step in Dr. Obagi's GSRTM System: Oil control pads, or a toner to soothe dry skin.
ZO Skin Health, Inc. develops and delivers innovative skincare solutions that optimize skin health based on the latest advances in skin therapy technologies, unique delivery systems, bio-engineered complexes, and exclusive formulations. By providing comprehensive skincare programs for physicians and their patients, ZO Skin Health, Inc. bridges the gap between therapeutic treatments and daily care, allowing patients to experience continuously healthy skin regardless of their age, ethnicity or unique skin condition.

Treatment
Maximize skin barrier functionality to achieve dramatic results.

Hydration & Calming
Provide hydration and anti-irrational benefits, while providing anti-inflammatory benefits.

Sun Protection
Combined ingredients protect the skin against harmful UVA/UVB rays and HEV light.

Enhancers
Formulated to enhance skin health regimens.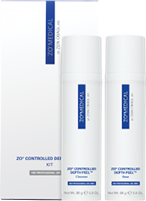 Peels
Professional treatments used to medically treat various skin conditions.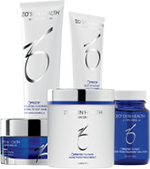 Programs + Kits
Selected combination of products that yield optimal results for any skin type.