What is Photodynamic Therapy?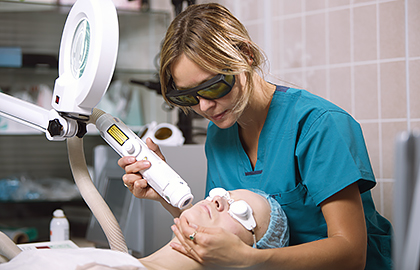 What is photodynamic therapy?
According to the American Society for Dermatologic Surgery Photodynamic therapy treats premalignant growths by using special drugs called photosensitizing agents, along with light, to kill pre-cancerous cells. The drugs only work after being activated by certain wavelengths of light. The process also is known as PDT, photoradiation therapy, phototherapy and photochemotherapy.
How is PDT used?
Photodynamic therapy (PDT) uses medications to make cancer cells and other abnormal cells vulnerable to high-intensity light energy, such as from lasers. It can be used to treat a variety of cancerous and precancerous conditions, as well as an emerging treatment for acne that involves the use of a photosensitizer in combination with a light source and oxygen.
Why choose PDT for premalignant growths?
Photodynamic therapy can be used to treat premalignant conditions such as actinic keratoses. Other benefits of the procedure include:
    No long-term side effects.
    Minimally invasive.
    Can be administered in a doctor's office.
    Can be administered multiple times to the same treatment area.
    Little or no scarring.
    Improved skin appearance, tone, color and texture.
Ask your dermatologist if photodynamic therapy treatments are appropriate for your skin condition. At Coastal Skin Surgery & Dermatology all our physicians are Board Certified, so you can be confident you are getting the best care. Discover the Coastal Difference today!