Prevent Skin Cancers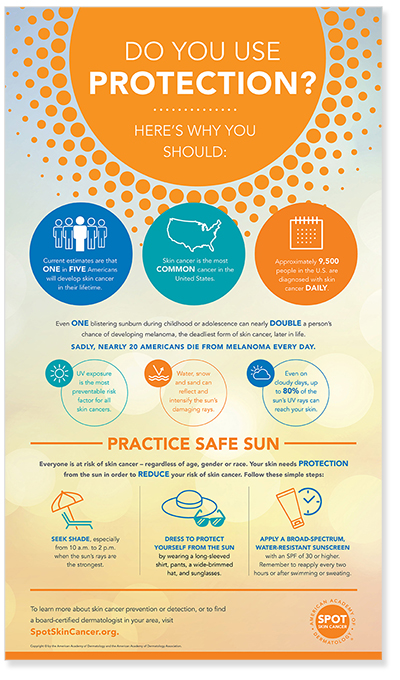 May is Skin Cancer Awareness Month and along with the American Academy of Dermatology, Coastal Skin Surgery and Dermatology recognizes the first Monday of each May Melanoma Monday!
Coastal Skin Surgery and Dermatology encourages patients of all ages to practice sun safety, schedule skin checks, and determine along with a dermatologists the best way to prevent skin cancers. Skin cancer is the most common cancer in the United States and one of the most treatable, when caught early. Unprotected UV exposure is the most preventable cause of skin cancer. Reduce your risk factor as we enter into the spring and summer months by practicing sun safety and understanding the dangers of UV rays.
Practice Sun Safety!
Always wear broad-spectrum sunscreen – We recommend EltaMD waterproof lotion and spray with SPF 50
Cover up – Wear a rash guard, hat, and sunglasses
Seek shade – Bring an umbrella for extended bouts of sun exposure and avoid the peak heat hours of 10AM – 2PM
When detected early, skin cancers are highly treatable. Dermatologists recommend annual skin checks, an understanding the ABCDE's of Melanoma, and ongoing self skin exams. Get to know your skin, watch for any unusual spots or changes like bleeding and itching occurring to existing moles on your skin and bring any sudden or unusual changes in your skin to the attention of your dermatologist. Skin cancers and unusual skin conditions may even be diagnosed through telehealth examinations with your physician, if you prefer an initial virtual visit conducted prior to diagnosis.
What are the ABCDE's of Melanoma? When it comes to changing moles you want to monitor for the ABCDE's- (Asymmetrical- one half not like the other, Borders jagged or irregular, Color- changing, dark, multicolored/irregular, Diameter greater than 6 mm but can be smaller, Evolving or changing). If any lesions fit the above criteria we encourage you to make an appointment and have the lesion(s) checked.
Coastal Skin Surgery and Dermatology continues to provide the best dermatological services to the Emerald Coast Community with 4 convenient locations as well as Tele-Derm Virtual Visits ~ Miramar Beach/Destin, Bluewater Bay/Niceville, Fort Walton Beach, and Panama City Beach.