What are Fraxel Laser Treatments?
Fraxel is a safe, non-invasive way to remove signs of aging making your skin look young and healthy. The Fraxel laser creates tiny "microthermal" zones deep in the skin which then skin then repairs by pushing damages skin out and healing it with new skin—accelerating the production of collagen and new, healthy skin cells.
Fraxel treats the following skin issues:
• Sun damage, fine lines, wrinkles and aging on the face, neck, chest and hands
• Acne scarring and surgical scars
• Improves fine lines around the eyes and on the eyelids
• Certain cases of melasma
• Improves skin texture and tone
• Reduces precancerous lesions by replacing sun damaged skin
Fraxel is most commonly used on the face, but can be used on other areas of the body as well. It is commonly used to remove stretch marks.
Three to five treatments are recommended over a period of several months. Most patients see results within a week of their first treatment and collagen will continue to develop up to 6 months after your laser treatment.
Save on Fraxel with Coastal Skin Surgery & Dermatology! Enjoy 15% off Fraxel laser treatments now through December 29th, 2017.**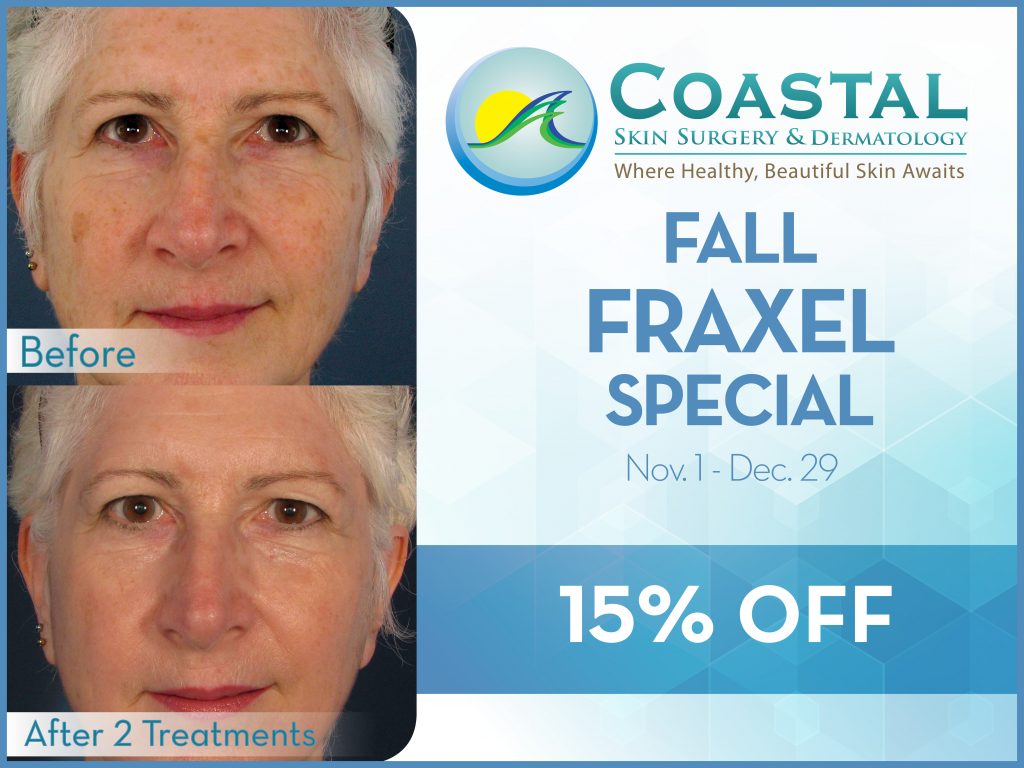 **Full area treatments only. Prepay in full by 12/29/2017. Services must be rendered by 2/28/2017.