May is Skin Cancer Awareness Month!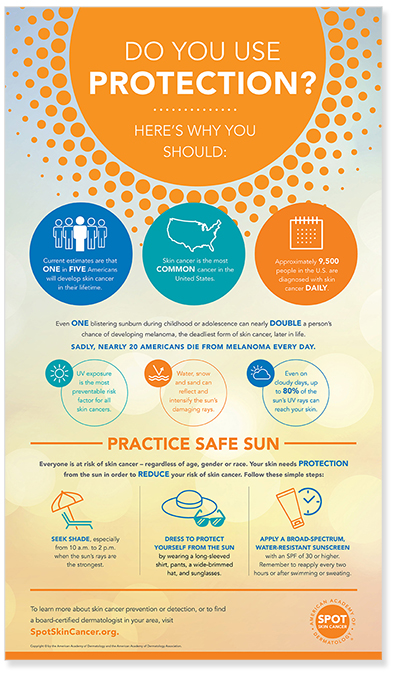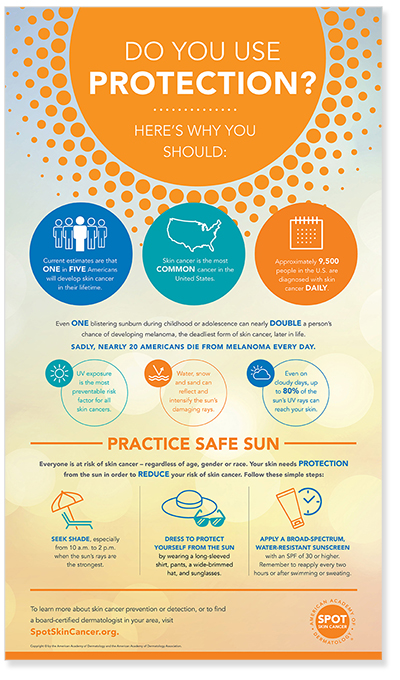 The month of May is recognized by the American Academy of Dermatology as Skin Cancer Awareness Month! This year the AAD and dermatologists across the nation are asking patients DO YOU USE PROTECTION?
Here are a few reasons why you should use protection against the sun:
Statistics show that 1 in 5 Americans will develop skin cancer in their lifetime.
Skin cancer is the most common form of cancer in the United States and if caught in the early stages, relatively easy to treat.
Approximately 9,500 people in the U.S. are diagnosed with skin cancer daily.
Daily sunscreen application is recommended as well as sun safe gear like a wide-brimmed hat, sunglasses, and clothing that contains UV ray protection.
Discuss why sun protection and skin cancer prevention is important with your whole family and start great habits now! Schedule an annual skin check with your preferred board certified dermatologist and make skin cancer awareness part of your daily routine 12 months out of the year! Call Coastal Skin Surgery & Dermatology to schedule your skin check at (850) 654-3376 or make an appointment online!