MAY 2017 | Skin Cancer Awareness Month
May is Skin Cancer Awareness Month and in an effort to bring awareness to the local community, Coastal Skin Surgery and Dermatology is offering Free Cancer Screenings on Monday, May 1st, 2017.
Stop by one of our 4 office location for your free skin check by one of our board-certified dermatologists Monday, May 1st, from 1:00-4:00pm. Free Skin Checks will be provided by Coastal Skin Surgery & Dermatology physicians in Miramar Beach/Destin, Niceville/Bluewater Bay, Fort Walton Beach, and Panama City Beach office locations.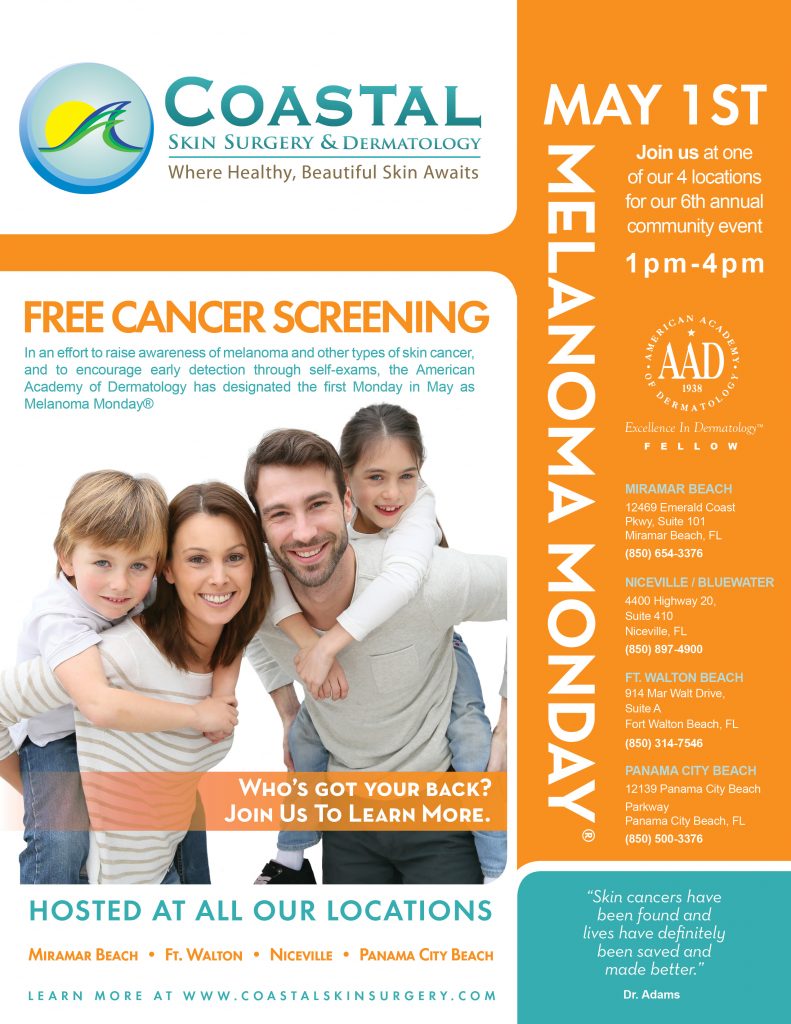 A Few Things You Don't Know About Melanoma
According to the American Academy of Dermatology (AAD), Melanoma is the most common form of cancer for young adults ages 25 to 29 and the second most common cancer for people aged 15-29.
Melanoma can appear in areas that are relatively unexposed to the sun like your fingers and toes and underarms.
While basal and squamous cell carcinomas are more common than melanoma, they have higher survival rates. According to the AAD, one American dies from melanoma every hour.
The five-year survival rate for people whose melanoma is detected and treated before it spreads to lymph nodes is 98 percent, according to the AAD.
Article Credit: The informative details above originally appeared on Heath.com, digital article written by Susan Rinkunas.